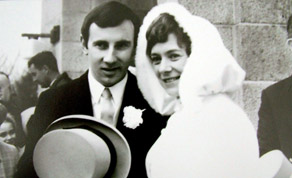 'Mí na Meala'
Good Company Productions' 'Mí na Meala' is returning for a fourth season on TG4 this September 22nd at 8pm .
'Mí na Meala' features Irish married couples who met in the 50's, 60's, 70's and 80's, reminiscing on their courtship, their wedding and their honeymoon. The series gently touches on travel, changing times, the evolution of marriage and relationships with a gentle humour. Couples will first take us through their first meeting, their courtship and marriage using photos, memorabilia and appropriate archive, before the couple returns to their original honeymoon destination.
The nostalgia of the previous seasons continues in season four where we will see couples from Dublin, Letterkenny, An Rinn, Gortahork, Cape Clear and Derry head back on their honeymoons to Austria, Venice, Croatia, Spain, Cornwall, Bangor in Wales, Barra in the Hebrides and Dingle Co.Kerry. The 8x25 series is produced and directed by Evan Chamberlain.
'Mí na Meala' is currently in post in High Wire and Lime Street Sound and is being cut by David O'Brien and Mary Crumlish.
'Pitch Perfect'
Other Good Company Productions which are soon to be broadcast on TG4 include new format 'Pitch Perfect'. Produced by Evan Chamberlain and Grainne O'Carroll, filming is currently underway on the series, which aims to create a choir of singers from GAA clubs throughout the country, to perform centre stage at the Dublin v. Kerry All Ireland Football Final this September. Filming for the series is taking place in locations such as Maynooth College, the Gaiety Theatre and the National Concert Hall.
Notable Guests on the Series so far include Anuna, Colm Wilkinson, River Dance percussionist Ian McTigue, Barber Shop Quartet "Four in a Bar" and Rock Band "Stand". The 30 strong choir has been formed and are now getting ready for the Final Showdown in Croke Park on All Ireland Sunday on the 18th September when Dublin take on Kerry and our Choir will find out if they are in fact "Pitch Perfect". Post Production on the series has now begun in High Wire with Colin Campbell off lining. 'Pitch Perfect' will be broadcast on TG4 from mid October.
Feirm Factor – Season Four
Good Company Productions have recently finished filming season four of TG4's/Good Company Productions' hit farming format 'Feirm Factor'. The production has recently returned from Shropshire in the UK where they filmed the penultimate programme with the final four farmers at Harper Adams University. The final showdown was filmed in Charleville Castle in Tullamore.
The series aims to find Ireland's top farmer and is presented by Maura Derrane (Four Lives). Post has begun in High Wire ahead of broadcast in January 2012.
Catch 'Mí na Meala', 'Pitch Perfect' and 'Feirm Factor' in TG4's upcoming autumn schedule.